MAKE IT CUTE
DIYs
DIY Christmas cards that your friends & fam will *love*
Buying a lot of cards for the Christmas season can get pretty expensive, but DW we have the *perfect* way for you to create gorgeous, unique cards that absolutely nobody at your holiday party will have. This Christmas, we're challenging our GL girls to make their very own cards. It's definitely worth the time, and who doesn't love handmade stuff? Keep on reading to find the perfect DIY cards you can easily make tonight.
Pop-up Christmas tree
This looks way harder than it actually is (promise!). And the person who receives the card will have their very own surprise inside.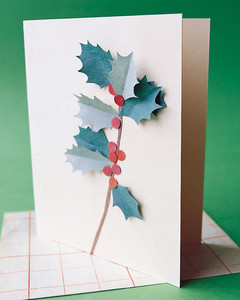 Holly vine
This simple, yet classy card is perfect for your minimalistic friend. It has just enough Christmas cheer without going overboard.
Ho-Ho-Ho Santa hat
This card could not get any cuter...plus it incorporates this seasons's fluffiest trend: poms!
Bedazzled ornaments
What's Christmas without some glam? These crystals work perfectly as ornaments, making the card look fancy *and* festive.
Washi-tape Christmas tree
You can basically do anything with washi-tape, even design a trendy tree. Stick to classic green or branch out with all different colors and patterns.
Paint-chip wreaths
Head out to your local Home Depot or Lowe's and pick up some paint color samples. Then cut them up and arrange into a wreath. Bonus: The paint samples are free!
Which cards are you going to try out? Let us know in the comments below!
Photo credit: CraftHubs.
POSTED IN christmas, Christmas gifts, crafts, diy, card, christmas crafts, MAKE IT CUTE, DIYs