MAKE IT CUTE
Parties
Your guide to the *cutest* spring tea party
Tis the season of pretty pastels and beautiful blossoms. And what better way to celebrate spring than to throw a tea party for your girls? The weather is warmer and everything looks *so* pretty so hit the patio or the garden for this classy get-together.
First, the decor. Pick where you want to have the tea party (we recommend outdoors if the weather is nice, obvs). Then spread out a girly table cloth with a pretty vintage teapot in the middle filled with fresh flowers.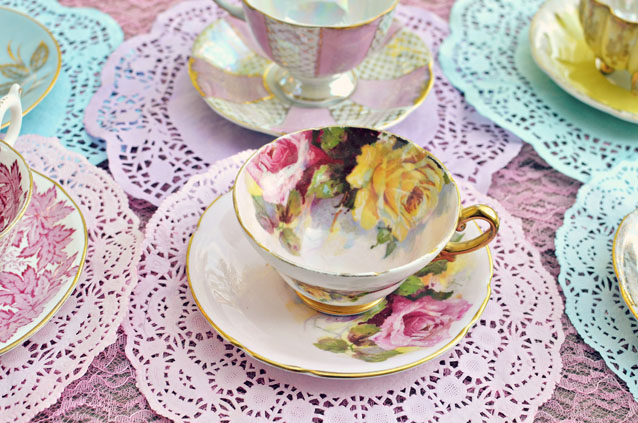 Every good tea party needs super cute tea cups (and these DIY dyed doilies while you're at it). Cups aren't just for tea, either—you can use them to serve your food as well. Be creative but keep your food simple. Think finger food and nibbles like cheese and crackers, fruit, macaroons and other sweet treats.
These cute butterfly bites not only look amazing, but taste amazing as well...and you can't have tea without cookies.
Serving tiny sandwiches is also a must at your spring soiree. You can stick to the classic cucumber sandwich or try these raspberry chocolate ones. Whichever you choose, make sure to serve them in tiny portions or even cut them into heart or flower shapes.
Teacups aren't *just* for tea anymore. Bake a batch of cupcakes following your favorite recipe, then serve them in the prettiest china. They are called cupcakes, after all.
Although tea will be your main drink, you can also serve this gorgeous and healthy strawberry watermelon mint infused water. And make these edible flower ice cubes to keep it cool.
Finally, send your girls home with these mini floral bouquets. Another fun favor would be to have each guest decorate their own teacup to take home with them.
Have you ever thrown a tea party? Let us know how it went below!
Photo credit: Berwyn Library.
POSTED IN party, party, party ideas, spring parties, summer parties, spring break, how to throw a killer party, DIY party decor