MAKE IT CUTE
Recipes
8 delicious upgrades to the banana split
Have you ever thought of how many ways you can devour a banana split? It's more than you can count. If you love the traditional banana split with mounds of ice cream, layered with rich chocolate drizzle and topped with whipped cream and a cherry, then you'll love these new twists on the classic.
Banana split kebabs
Your fave dessert just got a little bit healthier. This recipe is perfect for girls on the go who want a lighter sweet treat to take with them.
Banana split tacos
Who would have thought this combination would even be possible? This modern spin on the banana split takes the dessert to a whole new level by putting it inside deep-fried tortillas.
Banana split pops
These cute popsicles are perfect for a hot summer day without the mess of melting ice cream. It takes an extravagant dessert and gives it a simpler look with homemade banana pudding dipped in dark chocolate.
Banana split pizza
As if a banana split could get any better, the dessert is transformed into the best food ever! Brownie crust definitely included.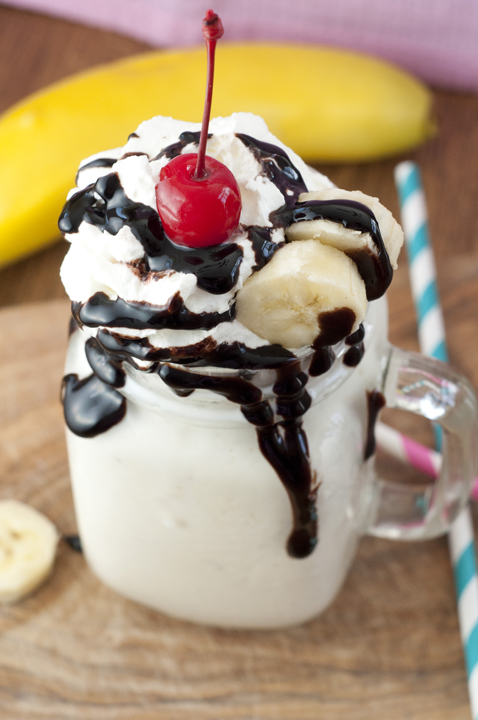 Banana split milkshake
Here is a dessert for all the milkshake lovers out there. Whip together all the usual ingredients of a sundae to make this frosty concoction.
Banana split pudding pops
If you don't want a full-out banana split but you love all the flavors, this recipe is just for you! It combines dulce de leche, classic chocolate and banana pudding with cherries to top it all off.
No-bake banana split cheesecake
Three tasty cheesecake layers make up this fruity dessert. The addition of a pineapple layer makes this a summer staple.
The original banana split
The best way to eat a banana split involves brownies, tons of ice cream, two bananas, chocolate and caramel drizzle and sprinkles. It's anything but simple but oh-so delicious!
What's your favorite way to eat a banana split? Let us know in the comments below!
POSTED IN MAKE IT CUTE, Recipes, summer, Old Recipes, sweet treats, summer recipes, chocolate