MAKE IT CUTE
Recipes
These Christmas tree cupcake toppers are *so* Insta-worthy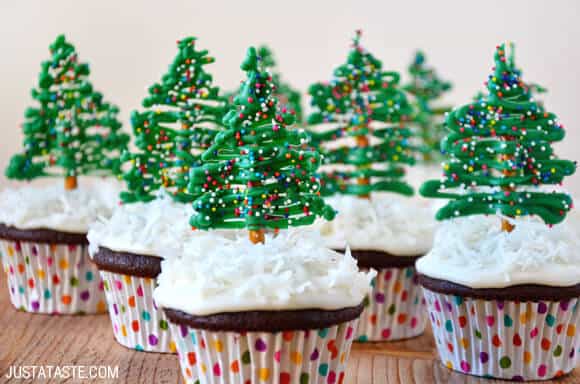 This time of year, cookies seem to steal the spotlight. But that's no reason to forget one of our fave desserts: cupcakes! They're the perfect size for a holiday sweet treat and easy enough to make that even a beginner baker can whip 'em up.
And while the flavor is the most important part (team red velvet over here!), it's also *totally* possible to create a cupcake that looks as good as it tastes with these tree toppers. The best part? They're made with chocolate and pretzels so they're 100 percent edible.
Ingredients:
- Pretzel sticks
- 1 cup green candy melts
- Sprinkles
Directions:
1. Melt the candy melts according to the directions on the package. Place the mixture in a piping bag.
2. On a baking sheet lined with wax paper, space out your pretzel sticks about 2-3 inches apart.
3. Pipe the melted candy over each pretzel in the shape of a tree. Add your sprinkles immediately before it hardens.
4. Let cool in the fridge for at least 10 minutes before removing and sticking on your cupcakes.
What's your favorite cupcake flavor? Share below!
POSTED IN christmas recipes, christmas parties, christmas, MAKE IT CUTE, Recipes