MAKE IT CUTE
Recipes
How to make *super* cute minimalistic cakes
Cake. Cake. Cake. What more does one need?
If you've seen those *super* cute minimalistic cakes circulating around the internet and always wanted to recreate them, we've got your back. Here's a breakdown on how to sweeten your day with these yummy beauties.
First, Cake
Vanilla cake is a delicious base, but feel free to customize it to your taste buds by adding some chocolate chips, sprinkles or whatever you're feeling like today.
Image: sugarspunrun.com/vanilla-cake-recipe/



You will need...





1/2 cup unsalted butter softened to room temperature (113g)
½ cup your choice of oil (120ml)
1 1/2 cup granulated sugar 300g
4 eggs room temperature preferred
1 Tablespoon vanilla extract
3 cups all-purpose flour (375g)
1 Tablespoon baking powder
1/2 teaspoon salt
1 1/4 cup buttermilk room temperature preferred (300ml)
1 batch Chocolate Frosting




Directions:
Preheat oven to 350F (177C) and grease and line two deep 8" round cake pans with parchment paper.

In the bowl of a stand mixer or just by hand, cream together the butter, canola oil and sugar until it's fully incorporated.

One at a time, add the eggs. Then, stir in vanilla extract.

In a different bowl, whisk together the dry ingredients - flour, baking powder, and salt.

Starting and ending with the flour mixture, alternate adding flour mixture and buttermilk to the butter mixture, mixing until *just* combined after each addition. The batter should be smooth, but make sure to not overmix!

Divide the batter into your prepared cake pans, and bake for 30-35 minutes. Test with a toothpick if it's done: if the toothpick inserted in the center comes out mostly clean with few moist crumbs, it's ready!

Allow the cakes to cool in their cake pans for 10-15 minutes before taking them out and placing them onto a cooling rack to cool completely before frosting.
[Original recipe from Sugar Spun Run]
Fluffy Frosting
Here comes the fun part...decorating! The buttercream frosting is an *essential* and this silky, pleasantly sweet Italian meringue recipe will pipe beautifully on your freshly baked cakes.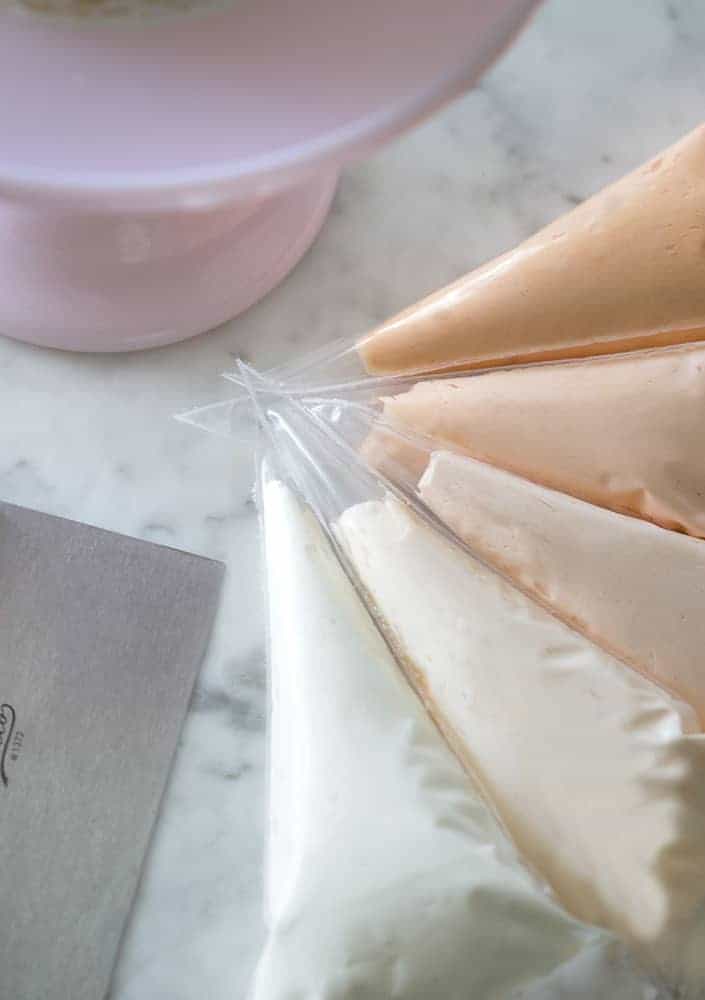 Image: preppykitchen.com



You will need...





4 egg whites large, room temperature
1 1/3 cups granulated sugar (267g)
1/4 tsp salt optional
16 ounces unsalted butter (454g), room temperature cut into 1-inch pieces
1 tsp pure vanilla extract optional (4.9mL)
1/4 tsp cream of tartar (.84g)
1/3 cup water (79mL)



Directions:
Beat the egg whites, salt and cream of tartar in a stand mixer. Gradually add in 1/3 cup of sugar and continue beating until soft peaks form.

Meanwhile, add the remaining 1 cup of sugar and 1/3 cup water into a medium pot on the stove and place on medium-low heat.

Stir the mixture until it becomes clear. Stay at medium-high heat until the temperature reads 235-240F.

Quick! Drizzle the syrupy mixture into the meringue immediately. The mixer should still be running.

Keep mixing until the meringue is cool.

Switch to a paddle attachment. Add room temperature butter into the running mixer one tablespoon piece at a time.

Add the salt and vanilla.

Beat everything is combined and the mixture has reached a silky consistency (store in the refrigerator; should be good for a couple of days)
[Original recipe from Preppy Kitchen]
Decorating: Release your inner sprinkle monster and go crazy on the cake decor! Here are some lovely inspo pics to get you started.
Image: www.pinterest.com/pastelbeige
Image: www.dewildesalhab.com
Image: www.hugscore.tumblr.com
Image: www.pinterest.com/thisthegallery/
Have fun and get your cake on!
Did you bake one of these cakes? Let us know @girlslifemag!
POSTED IN MAKE IT CUTE, Recipes, cake