FITNESS
Eat Right
Currently craving: Our 7 fave protein cookies
Cookies make for the *best* snacks (seriously, who can pass up Mom's homemade choc chip straight from the oven?). But there's only one problem: They don't really fill you up. Or at least they didn't, until now.
Meet the protein cookie, aka one of the best food inventions since avocado toast. It's the best of both worlds: Protein to keep you satisfied and the delicious taste of your fave sweet treat. But not all protein cookies are created equal--that's why we've rounded up the 7 best of the best below.
The Cookie Department
These aren't your average protein treats. The Cookie Department offers everything from an energy cookie (with chocolate, coffee and caffeine) to a healing cookie (with ginger and cayenne). But our favorite is definitely the chocolate chip "nookie" made with good-for-you maca root.
Eat Me Guilt Free
None of the gluten, *all* of the protein. That's what these cookies promise. Plus, we'll take anything made with chocolate and rainbow M&Ms, let's be honest.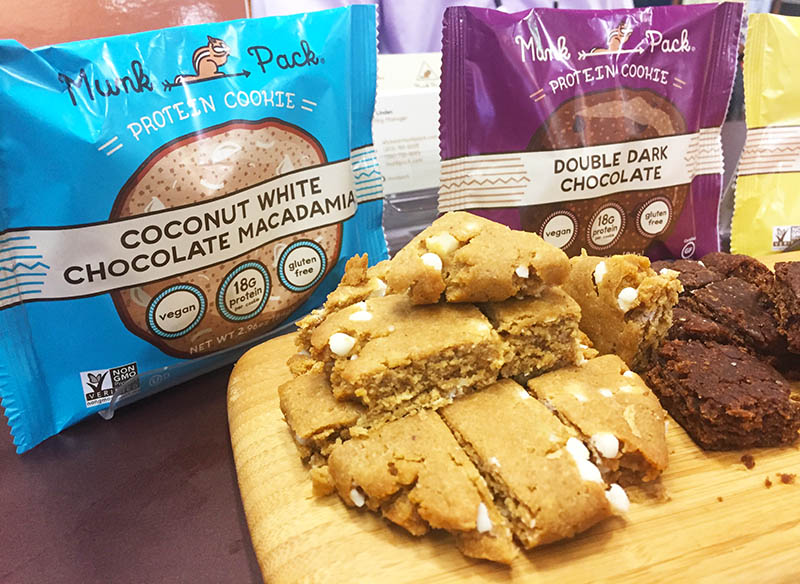 Munk Pack
Vegan babes, rejoice—Munk Pack cookies are 100 percent vegan (and soy and gluten free!). They're also full of fiber so you'll stay full way longer after you chow down on their oatmeal raisin spice cookie. Yum.
Flapjacked
The one thing that packaged protein cookies *can't* deliver? That gooey, melty, just-baked taste. Which is why we're so here for Flapjacked. You can buy the mighty mix and bake a batch yourself. A little more work but well worth it on a chilly winter day.
Buff Bake
One of the OG protein cookie brands, we're pretty much obsessed with how pretty (and how tasty) these bites are. Must-have flavors include birthday cake, peanut butter cup, snickerdoodle and even chocolate donut. And with 16g of protein per cookie, you'll be ready to slay *any* day.
Bite Fuel
Because bigger isn't always better, these mini protein cookies are the perfect snack for girls on the go. We're especially partial to the double chocolate but all of the flavors are super chewy and super delish. Bonus: They use grass fed whey protein which has an extra boost of nutrition (and is better for the environment!).
Cookie+ Protein
The name really says it all. These good-for-you goodies are powered up with 22g (!) of protein but you'd never know. Aka they taste almost as good as the cookies your mom bakes and we are all about that.
Do you like protein cookies? Tell us your thoughts!
POSTED IN eating, healthy eating 101, nutrition, Eat Right, snack, cookie