MAKE IT CUTE
Parties
Throw the *ultimate* witches night this Halloween for your girls

Think Halloween is all monsters, zombies and gore? Witch, please. While we love our costume parties and apple-picking festivities, there's another type of frightful fete worth hosting this fall: ghouls' (er, girls') night in. We've got all the steps to bewitching your besties below.
Serve with style.
Swap the boring bowls for cool cauldrons. Fill plastic ones (find 'em at the local party store) with snacks like popcorn, crackers, Chex Mix and more.
Pour some potion.
Made with Kool-Aid and gummy worms (and a little bit of dry ice), this spooky sip is the best brew for your besties. Now drink up, witches.
Play a game of witch pitch.
Glue some hats to a big piece of foam board for a ghoulish game of ring toss. Another fun game idea: Host a cackling contest. See who has the best evil laugh!
Cook cones for your coven.
Forget the cupcakes...these "cone" cakes are so much better.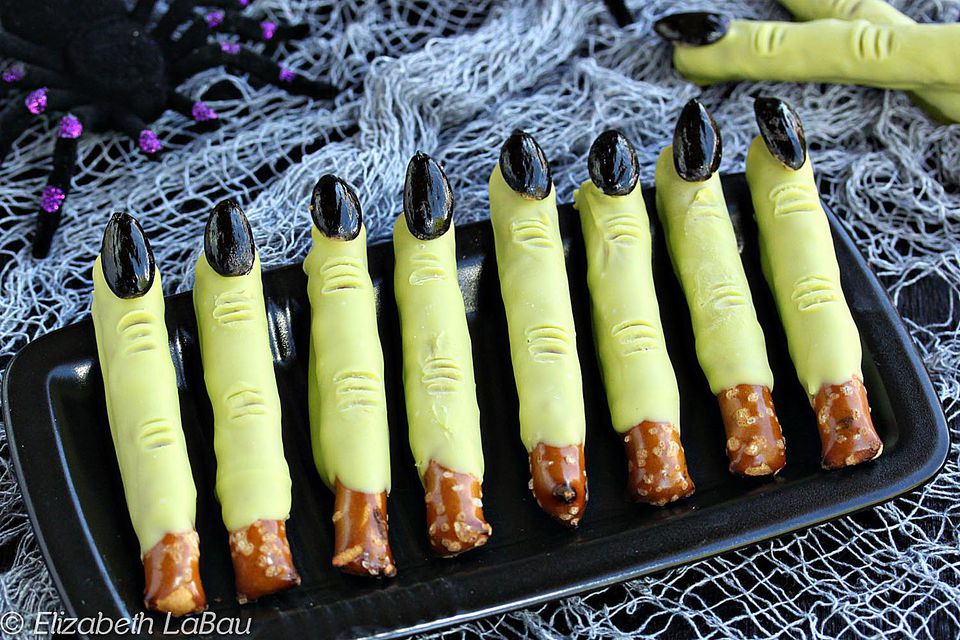 Feast on fingers.
Who doesn't love chocolate covered pretzels? Make yours a little more mysterious with green candy coating and almonds.

Snack on sand-witches.
Remember the wicked witch from the west? Yeah, she's back. But this time, it wasn't Dorothy's house that crushed her...it's two delicious pieces of bread and your fave sandwich filling.
Broom, bye.
Send your girls home with fab favors...uh, we mean broomsticks. Recreate every witch's must-have accessory by cutting slits in a paper bag. Then tie it around some Halloween pencils with festive ribbon (don't forget to fill it with candy, first).
Are *you* throwing a Halloween party this year? Tell us below!
POSTED IN halloween