MAKE IT CUTE
Parties
For the girl obsessed with Turkey Day: Throw a friendsgiving party
You probably have plans for Thanksgiving with your family...but that doesn't mean you can't celebrate the holiday beforehand with your girls. Gather all your friends that you're *super* thankful to have in your life this season and throw a friendsgiving party.
Let each friend know they have a special place at the table (and avoid the game of "who wants to sit next to who"). You can get really creative and use mini pumpkins with dipped glitter stems as a festive placecard.
No friendsgiving is complete without a cornucopia. Lay this veggie version out with some ranch or hummus for your guests to munch on when they enter.
Turn a fall favorite into a fun dipping station with a candy apple bar. Give your guests a choice between caramel and chocolate and a variety of yummy toppings. Pro tip: Use slices instead of whole apples for a less messy bite.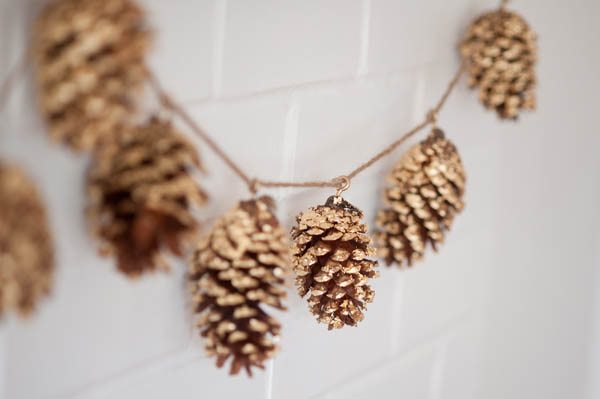 You can DIY this chic and festive garland to add some whimsy to your party. The best part? You can head right to the backyard to find your pinecones.
This is a fun craft to keep everyone occupied while they're waiting for all of the food to be ready. Your guests can take these home and use them as cute holiday decor for their rooms.
Is it even Thanksgiving without apple cider? You can get mini bottles and tie little thank you notes around them for the perfect party favor.
You have to have pumkin pie, it's a Thanksgiving staple. These pumkin pie bites are easier to make than a full pie and way more fun to eat.
Although the season is about giving back and being thankful we'd be lying if we said we didn't look forward to the food associated with the holiday. Make things easy by assembling a buffet line to serve the food. Everyone can help themselves and you can enjoy time with friends instead of worrying about serving everyone. Even better: Ask each guest to bring a dish, too, so you don't get stuck making everything.
What would your perfect friendsgiving look like? Tell us in the comments!
POSTED IN holiday parties, autumn parties, MAKE IT CUTE, Parties