FAB UP YOUR LIFE
Room
Insta-worthy room decos to satisfy your inner traveller
Thanks to your fave Instagram girl who's always posting pics of her international adventures, you're dreaming of travelling the world...but you haven't had the chance yet. Maybe you're too young, maybe it's too expensive (ugh) or maybe you already signed up for a volunteer abroad trip next summer and are counting down the days. Regardless, you can *totally* bring the whole wide world to your bedroom with the inspo we rounded up below.
Keep yourself heading in the right direction with a compass throw pillow. Less in-your-face than a map, but still wanderlust-esque.
Drift into an easy sleep with this dreamy duvet cover. We love the boho patchwork vibe!
No headboard? No problem—hang a trendy tapestry instead.
DIY a gorgeous globe for your bookshelf. Pick your fave quote and your fave colors and get creative.
Or turn an old map into an adorable garland. Hang it around your room or drape it over your headboard.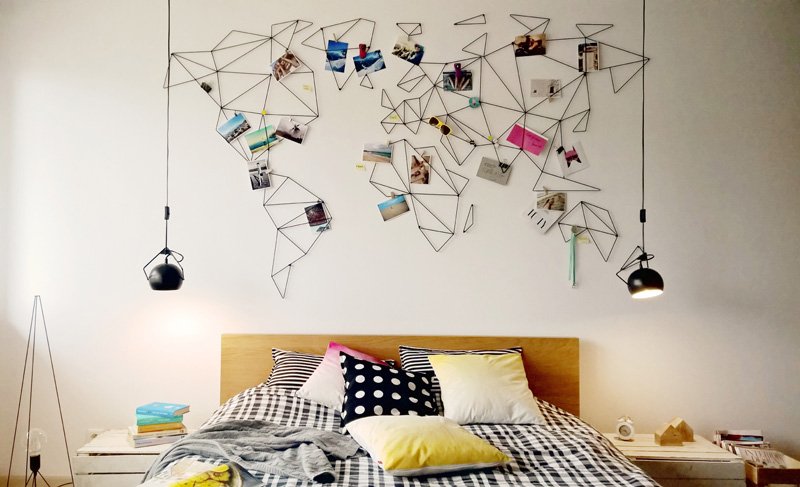 If you want a more modern take on the world map, snag this wire wall art. Print out pictures of your dream destinations to decorate it.
Treat a black and white map tapestry as a neutral—pair it with a pretty patterned comforter and other pops of color.
Who knew maps could double as wallpaper? Collage a bunch of different sizes and styles on one wall of your bedroom for a jetsetting atmosphere.
If you could travel anywhere in the world, where would you go? Tell us in the comments!
Photo credit: Pinterest.
jump to comments