STYLE
Fashion
7 stylish watches to keep you on time this school year
A watch is a simple yet necessary staple piece for every organized (or wanna-be organized) girl. Not only are watches super stylish, but it's important to be aware of the time—especially during the school year. How are you going to make it to class before the bell if the only clock you've got is your off-limits cell phone? Here are seven affordable and stylish watches to help you stay on track this semester.
Digital Watch, $19.90
This digital watch from Forever 21 is water-resistant, which means you can shower with it on, and has a stopwatch feature which you can totally utilize during gym class.
Ring Watch, $28
This timepiece from Decree is an adorable ring that opens up to reveal a clock! It comes in two different colors and is sure to add a touch of femininity to any outfit.
Reinventing the Color Wheel Watch, $39.99
Calling all art-fiends! This watch from ModCloth is the perfect way to add color to any boring outfit and its eye-catching style is sure to win you some compliments.
Modern Mesh Watch, $34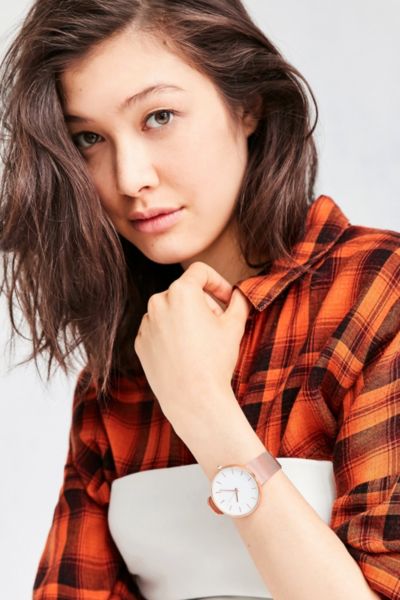 This watch from Urban Outfitters is super sleek and trendy. The mesh band makes this watch unique and cool while the simple face will add a touch of class to any class.
Chic Owl Watch, $15
This watch from Charming Charlie has an adorable owl on it and is a super-cute way to show off your love of animals. Plus, you can't go wrong with that simple black band—it'll match everything!
Antique Gold Watch Necklace, $16.50
This watch from Claire's isn't your typical watch...because it's actually a necklace. Wear it layered with other necklaces of varying lengths to add a bit of whimsy to any ensemble.
Pepperoni Slap Watch, $21.99
This watch from Watchitude brings back one of our favorite 90's trends...slap bracelets! It features a nom-worthy pizza design that'll make you hungry whenever you wear it.
With this selection, you're sure to find one watch that suits you perfectly. Which one of is your favorite?
Photo credit: Got Celeb
jump to comments