MAKE IT CUTE
Recipes
Make one of these *amaze* grain bowl recipes for lunch tomorrow
Burrito bowls and even sushi poke bowls have had their moment in the spotlight but the latest in healthy food trends are grain bowls. Essentially it's just a bowl with a whole bunch of yummy ingredients like chicken, veggies, tofu, fruit or whatever it is you're into with a rice or quinoa base. Best part is that they're super easy to make. No need to go to your new trendy over-priced eatery down the street. We've got a roundup of some of the yummiest grain bowl recipes on the block.
Sweet-and-sour chicken grain bowl
Turn your fave Chinese dish into a healthy and flavorful bowl with brown rice.
Berry quinoa power bowl
Get energy to the max for your day with this berry delicious quinoa bowl.
Cajun red beans and brown rice with andouille sausage
Kick up the flavor with this Louisiana inspired grain bowl. The take on a Southern classic is sure to transport you straight to the French Quarter.
Taco quinoa bowl
Who needs Chipotle when you can make this bowl at home? Snag the secret recipe here.
Korean shrimp BBQ bowl
Get the Korean barbeque flavor...without the Korean barbeque price tag. Doesn't get much better than zesty shrimp, fresh vegetables and a sunny side up egg.
Blackberry citrus granola bowl
Liven up breakfast with this fruity granola bowl packed with lots of nutrients and citrusy goodness.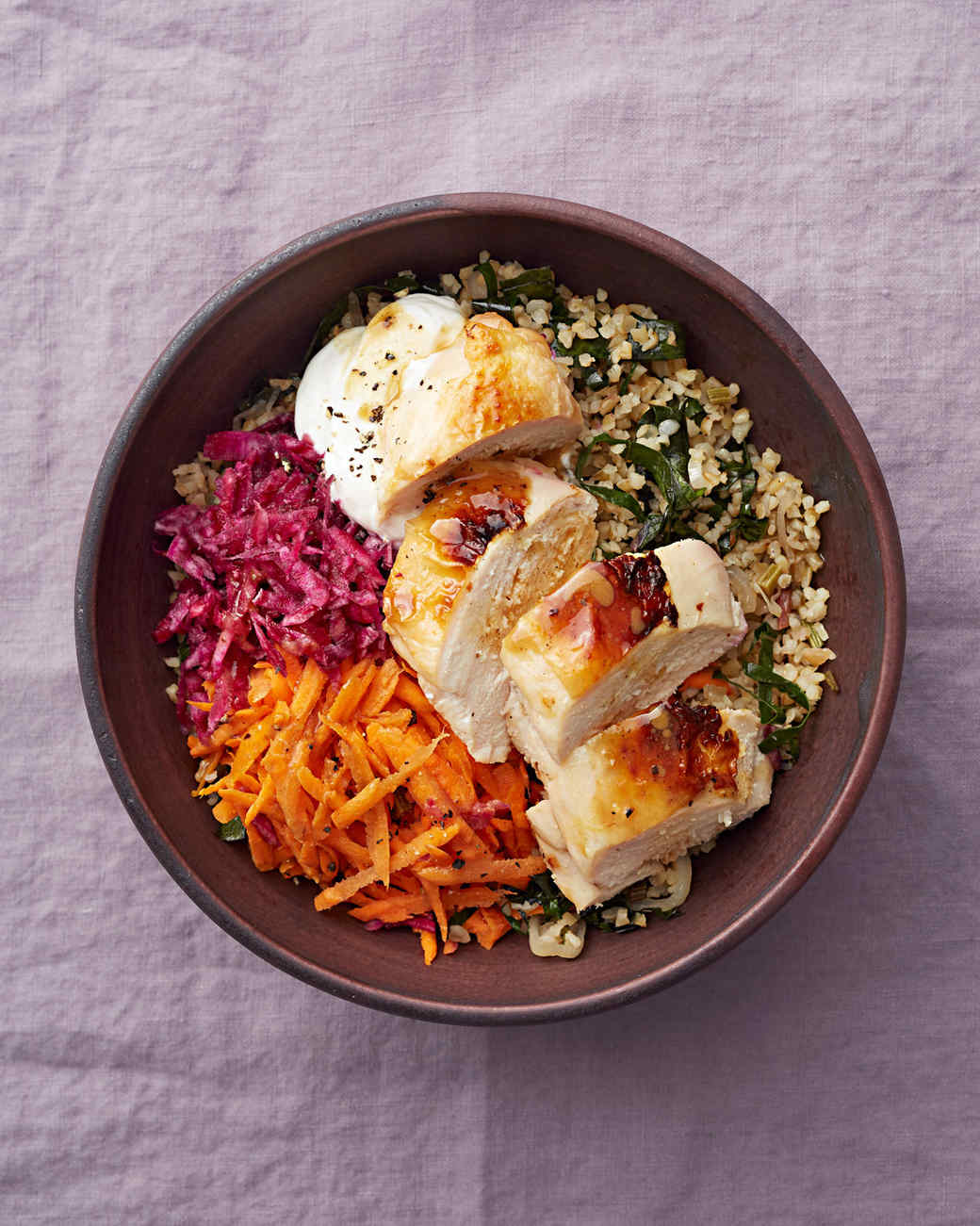 Roast chicken grain bowl
Get back to the basics with this hearty roast chicken grain bowl, guaranteed to keep you full well after lunch.
What would you put in *your* bowl? Share below!
Like this? You'll love these, too...
+ 5 ways to turn your class crush into your summer bae
+ The *hottest* products you'll want in your beach bag
+ Why being healthy is more important than losing weight
Photo credit: Pinterest.
POSTED IN eating, MAKE IT CUTE, Recipes